Not the member you searched for? See Members Category.
Robygamesro << Rochi124 >> Rocketeer
rochi124

Statistics:
Real Name:
Unknown
Gender:
Male
Age:
19 years old
Birth Date:
Unknown
Country:
Canada
Joined:
January 10th 2017
Member of the Day on:
No day
Introduction
First time on sploder
He made some of the first sploder games over an teenage asian boy. a year later, he joined xnduiw. he is still level 16. he befriended infamous cyberbully proxycyaniderblx.
Detailing
His game "Duosion" is the most detailed game of the xnduiw career, he also works with ridusotakamura, betacephei, and proxycyaniderblx. you can see he sends awards to him.
Making of his games
He made intros but he never uses them, from 2014 until 2017, he was on his own, until proxycyaniderblx joined.
He used to make alot of games from 2014 until 2015. then rarely make games, that led him to a low sploder level after years of experience
Family
Branching off
On the family tree, you can see that proxycyaniderblx and ridusotakamura's sploder accounts are both in the same family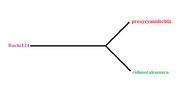 < When proxy and ridusotakamura both joined, they joined 2 months apart,
proxycyaniderblx joined roblox on September 30th, 2013
ridusotakamura joined roblox on November 17th, 2013
Sploder videos
His first sploder video was made on March of 2015, while he was messing around, the map actually spazzes out and it glitches. proxycyaniderblx filmed himself on sploderheads, but they got IP banned because of an incident. He is not sure when the IP ban will lift.
Underleveled for a sploder account that lasted for years
Inactivity
Because of his inactivity, he was still just level 16
- proxycyaniderblx & ridusotakamura joined
- got bored of sploder
- took an hiatus
School & Work
He is no longer in school because he dropped out back in 2013 to pursue his career. He works as an service assistant on an IT Company.
Trivia
- He is one of the very few canadians here.
Community content is available under
CC-BY-SA
unless otherwise noted.