Welcome!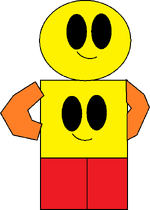 Welcome to my Profile Page! I'm an user that has many accounts on websites and I can stop Vandalism here.
My Accounts that i Created on Websites
My YouTube Channel: Roblox TV Network
My Sploder Account: Robotpointo
My Roblox Account: Robloxisverycoolest
My DeviantArt Account: XxTheGreat12
My Scratch Account: whyyoulookingme
My Favorite Games
Roblox (played daily)
Any Mario Game
Pac-Man
Any Sonic Game
Frequently Asked Questions
Q: Do you like memes?
A: Yes.
Q: What you do to stop vandals?
A: I report them to the SOAP wiki and then undo the vandalism they have done to some articles, including articles i made.
Q: DO YOU KNOW WHAT GRAMMAR IS?
A: bruh
Q: What's your favorite food?
A: Pizza.
Q: What are your favorite characters?
A: Mario, Pogoriki, Sonic, Pac-Man, and Inky.
Q: What's the thing you hate the most?
A: Grounded videos out of me, rants of me, etc.
Q: What's your favorite shows?
A: GoGoRiki.
Sploder Wiki Projects, toys, games, and more things i Created
Here is a list of Projects, toys, games, and more things i made on the wiki.
Games
Finished
Toys
Finished
What is else?
Well, I don't have much to say here, so see ya around!
Community content is available under
CC-BY-SA
unless otherwise noted.